Dartmouth College : CIS
Alumni
CIS Voices:
---
29 Nov 2000
Blake Ives <>
I got married when I turned 50 - to a great, great grandfather of the founder of one of the most famous restaurants in New Orleans - Antoines. Mimi is an accounting professor, but that description does not do her justice. She's the reason I moved to Louisiana -- that and New Orleans. We had an apartment last year in the French Quarter and will rent one again over Christmas vacation this year. I was in Hanover the day they tore down Nathan Smith. I walked up to the building and looked up through my office window and saw it had a very bright blue ceiling with odd patches of white. When I walked around to the side I discovered why - only the front facade was still standing. By the next day that too was gone. That was the best office I ever had - and the only one where the windows open. Speaking of failed Window's, I am among the last Mac users in the B-School. I have about five of them now I guess, and am using a projector as my office screen (and the new CinemaDisplay at home).

-- Blake Ives
---
I noticed the cis-alumni.org address as a referral to our web page in
the web statistics.

Our emails are:

"Bill Downall" <>
"Chris (Samia) Downall" <>

What kind of domain is "wonk.com?" Do you make candy bars, or brainstorm government policy?

Happy holiday season!
Bill
1983 now with its' own web page!
February 26, 2003


Kate Ruckman
Well, George has moved on from that job, but I did hear from him recently! He is still living in Columbus, but is taking a self-imposed break from the business world. His email address is: He's married and has 3 kids.

I also got a short note from Andrea Lind Buffum, and her email address is:

You might also want to add Anne Hathaway's address: and Dick Schellen's address:

Thanks so much for creating the new page with the photos! Is there a link to it from the main CIS page? There probably is and I just didn't find it.

This is fun!

Kate
February 25, 2003

Nice CIS web page. CIS-83 doesn't seem that long ago but, yikes!, it's been twenty years. I still see some of the old gang. I'm having dinner with Anne Hathaway tonight, saw Kathy Litch and Kent Morton about a year ago, have run into Steve Garland once or twice at MIT, and got a Christmas card from Jon Groisser. Hope you're doing well.

All the best,
Bruce
January 23, 2003
Bjørn Barmen
Happy new year.
The days are busy with work and family. Two boys (1 and 4 years) needs attention and brings new prospective on life. I enjoy their company.

Kari started working again in the beginning of the year after one year of maternity leave.

I still work at Merkantildata. Now as head of the outsourcings department. This keeps be busy (as always) traying to maintain both quality and economy at the same time.

Say hello to family and friends.

PS! Sending a picture of my two boys. [Lars-Svein]
February 19, 2003
Kate Ruckman of San Antonio, Texas
Dartmouth CIS Class of '83 Newsletter
December 2002
has moved on from that job, but I did hear from him recently! He is still living in Columbus, but is taking a self-imposed break from the business world. His email address is: He's married and has 3 kids.
I also got a short note from , and her email address is:
You might also want to add 's address: [email protected]
address:
lives in the Boston area and has a website hosting & design business. His wife, who is an obstetrician, has worked with Steve Garlands wife, who is a doula, on several births! John created this web page for our class.
is teaching Introduction to Operating Systems through the University of Phoenix.
has been everything from database consultant to technical writer to bookstore owner in the last 20 years and currently works for Geographic Data Technology in Lebanon, NH as a graphic designer. He remarried about 5 years ago, and his kids are now 19 & 17.
is now the Clinical IT Director at the Dartmouth Medical Center. His daughter is a graduate of Dartmouth and Thayer. Ned encourages us to consider coming back to Hanover for a 20-year reunion in June.
lives in Palo Alto, California and works at HPs Corporate Research Center on computer vision getting computers to understand and reason about images.
, according to Bruce, is a mucky-much at Cisco with lots of people reporting to her. Bruce also reports that Anne, Kathy Litch, and Jon Groisser each have beautiful families now. Anne wrote to me, too, but she didnt call herself a mucky-muck. Im still hoping to get email addresses for Kathy and Jon.
has been back in Oslo since 83 and has 2 sons, one born just recently. Bjorn works for Merkantildata as head of outsourcing.
Blake Ives is at the University of Houston. Hes married and has a baby daughter.
Jerry Learmonth has taught at Boston College, the Federal Executive Institute, and George Washington University since leaving Dartmouth. He started an Internet Service Provider in Charlottesville, and his son is now president of that company. He currently teaches in the Department of Systems and Information Engineering at UVa, where hes the part-time Academic Director of the Executive Masters Program in Systems Engineering.
As for me (Kate), Im back in San Antonio and working in the Fiscal Affairs Office at my other alma mater, Trinity University, as a sort of liaison between the accounting-types here and the programmers at the computer center. I suppose the project Im most proud of is my house I bought and restored a Victorian home in San Antonios King William Historic district about 10 years ago and really love it and have been active in my neighborhood association. I also enjoy quilting, traveling (especially to England), and my 3 cats and 1 Doberman (and yes, the cats HATE the Doberman, although she really just wants to play with them).
Happy Holidays and do keep in touch!
Kate
November 13, 2002
Ned H. Turpin
It's hard to believe that our 20th reunion is right around the corner (this coming June). The time has flown by. I've lost touch with just about everyone from our class. I still occassionaly cross paths with , he still lives in the area. Yes, I'm still here too. Still living in the same place, still working at the same place.

Career wise not much has chnaged, I'm now the Clinical IT Director at the Medical Center. The Medical Center moved to a new location 11 years ago (only a few miles from the old location). What an amazing transformation. Lot's of interesting projects, too much work, too little time.

My daughter, has grown up, attended Dartmouth as an undergrad, then Thayer for a graduate engineering degree, she just moved to Portland, Oregon to start her career (green building design, sustainable buildings). Portland's way too far from New Hampshire. Oh well...

Great catching up with you. It would be fun to see the old crew in June. Think about it.

Ned...
March 30, 2001
Pat H Lapczynski <>
Hope your doing well. I've been at for over 10 years. I was Director of Computer Operations until this past July when I started to teach some of the into programming language classes and was "volunteered" to direct the Title III program here at the college.

I entered the Sisters of Mercy in the late 80's and took my final vows in 1994. I'm having a super time. Life has treated me well. My love to all! Thank-you for starting these pages.
From:
Oct 7, 2003 4:44:10 PM US/Eastern
Bill Boyd <>
Here I am in the morgue, programming in 'C'
Here is a contemporary picture from June. Now with IBM in Tampa.
By 1997 I was in charge of server (UNIX, Oracle, and my old pal 'C') training at Price Waterhouse in Tampa
.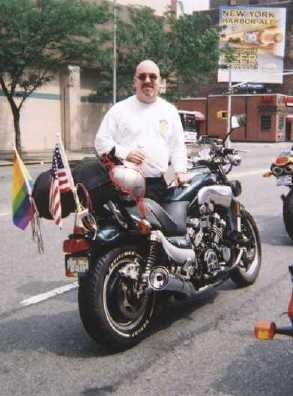 January 12, 2003
Pierre Judet <>
67 rue de la colonie
75013 Paris
tel : (33) (0) 6 14 35 30 39
February 18, 2003
Troy Jones <t>of Round Hill, VA
Janet and I became engaged on the day I graduated from Dartmouth. We were married in 1989 and now have a son, Nicholas and daughter Katie (ages 6 & 4).

Janet has been a mostly full-time mom for a few years, but now wants to get back into the workforce as a teacher. She is going to school nights and expects to have her teaching certificate in May.

We live in northern Virginia (near DC) and I currently work for Cigital (www.cigital.com [email protected]) as a project manager. Cigital is the leading authority on Software Quality Management. We specialize in application reliability and security and have quite a number of PhD's and recognized industry experts on payroll. I like working for a small firm delivering professional services, and after many years at Ernst & Young and AT Kearney, this feels right.

If the security or reliability of your Java/C/C++/J2EE/.net application is a concern, then check out our website or give me a call.

Roger Wood, where are you?