Alumni Web Site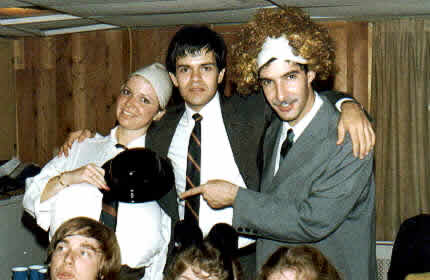 larry, curly & mo
See the latest in CIS Alumni Web Talk
---
August 9, 2003
- Be There or Be Square!
Bob King <>, conspires with Steve T. & John H.
Bob King got the ball rolling and met with Steve and John on a family trip to Massachusetts from Connecticut. Over brunch at the Westin Bob got the idea of a reunion at Class Day in Hanover on October 25th rolled into a conspiracy.

---
March 4, 2003
Kathy Litch <>
Here's a picture of me and my family. We took a family camping/biking/hiking vacation last summer in Acadia, and this is a picture from the top of one of the trails.

We moved from California to New Hampshire just about 11 years ago. While we miss our friends in CA, we really enjoy living in New Hampshire. My husband, Paul is a software engineer and I've done a bit of this and that. I worked for HP for almost 10 years in Product Marketing and then decided to start my own computer consulting/training business. That, along with keeping track of my kids, running the math enrichment program for second graders at our local school, and planning my next vacation all keep me pretty busy!

Kathy CIS '83
February 26, 2003


Kate Ruckman
Well, George has moved on from that job, but I did hear from him recently! He is still living in Columbus, but is taking a self-imposed break from the business world. His email address is: He's married and has 3 kids.

I also got a short note from Andrea Lind Buffum, and her email address is:

You might also want to add Anne Hathaway's address: and Dick Schellen's address:

Thanks so much for creating the new page with the photos! Is there a link to it from the main CIS page? There probably is and I just didn't find it.

This is fun!

Kate
February 25, 2003

Nice CIS web page. CIS-83 doesn't seem that long ago but, yikes!, it's been twenty years. I still see some of the old gang. I'm having dinner with Anne Hathaway tonight, saw Kathy Litch and Kent Morton about a year ago, have run into Steve Garland once or twice at MIT, and got a Christmas card from Jon Groisser. Hope you're doing well.

All the best,
Bruce
January 23, 2003
Bjørn Barmen
Happy new year.
The days are busy with work and family. Two boys (1 and 4 years) needs attention and brings new prospective on life. I enjoy their company.

Kari started working again in the beginning of the year after one year of maternity leave.

I still work at Merkantildata. Now as head of the outsourcings department. This keeps be busy (as always) traying to maintain both quality and economy at the same time.

Say hello to family and friends.

PS! Sending a picture of my two boys. [Lars-Svein]
November 13, 2002
Ned H. Turpin
It's hard to believe that our 20th reunion is right around the corner (this coming June). The time has flown by. I've lost touch with just about everyone from our class. I still occassionaly cross paths with Dick Schellens, he still lives in the area. Yes, I'm still here too. Still living in the same place, still working at the same place.

Career wise not much has chnaged, I'm now the Clinical IT Director at the Medical Center. The Medical Center moved to a new location 11 years ago (only a few miles from the old location). What an amazing transformation. Lot's of interesting projects, too much work, too little time.

My daughter, has grown up, attended Dartmouth as an undergrad, then Thayer for a graduate engineering degree, she just moved to Portland, Oregon to start her career (green building design, sustainable buildings). Portland's way too far from New Hampshire. Oh well...

Great catching up with you. It would be fun to see the old crew in June. Think about it.

Ned...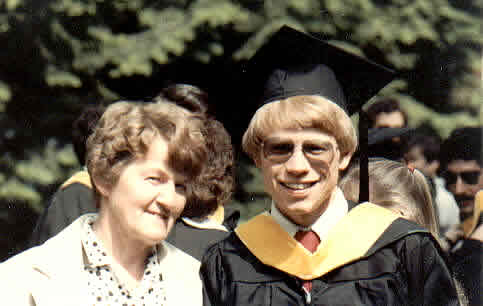 norweigan gold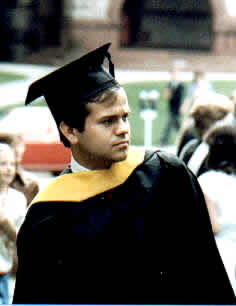 dapper texan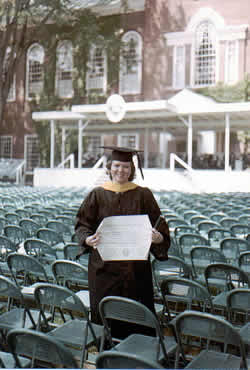 a Texan made it!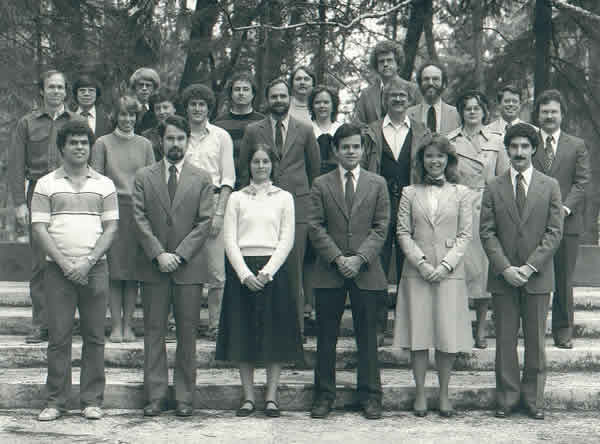 the whole crew (except they look younger now!)