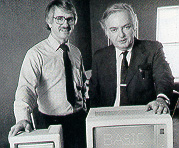 In 1964, students at Dartmouth College needed better access to computers and a simple, effective language to write computer programs. First, John G. Kemeny, who was the chairman of the Department of Mathematics, and Professor Thomas Kurtz created the Dartmouth Time-Sharing System, one of the first time-share computer systems in the United States; then they created BASIC computer language so students could write programs to run on the General Electric GE-225 mainframe that was the heart of the system. On May 1, 1964, two programs written in BASIC ran simultaneously on the Dartmouth time-shared system and both accomplishments would change computing forever. Ten years later, a version of BASIC written by Bill Gates and Paul Allen was included on the Altair, the first personal computer, and after three decades, BASIC is by far the most popular computer programming language.

Kemeny and Kurtz started working on a simplified computer language in 1956. Their first programming language, Dartmouth Simplified Code (Darsimco), fell by the wayside in 1957 when FORTRAN was introduced. Another ancestor of BASIC was Dartmouth Oversimplified Programming Experiment (DOPE), which was too primitive to be useful, however both Darsimco and DOPE enabled Kemeny and Kurtz to experiment with computer languages that were targeted to the non-expert computer user.

In the early 1960s, John Kemeny believed a new language was necessary to enable non-science students to use computers. In addition, for the time-sharing to be successful, the new language would need to be simple. Thomas Kurtz; however, felt that a subset of the FORTRAN or ALGOL languages could be used. While attempting to change FORTRAN, they realized the result would in fact be a new language, and the two men then began work on BASIC.


True Basic is an ANSI Standard Basic developed by John Kemeny and Thomas Kurtz, the authors of the original Basic language. True Basic is a trademark of and can be obtained through that company. True Basic is a modern structured language and may be the most gentle environment for beginning programmers.




Language Features

Extremely easy to learn
Powerful enough for applications development
Fully structured, follows modern programming concepts
Integrated environment with source, command, and output windows
Full-featured editor
Instructive demo programs included
User-extensible function set
Very close to ANSI Standard BASIC
Versions for most popular operating systems.

Documentation*

600+ pages
Guide to using the language
Definitive language reference

Technical specifications

Illustrations and examples

ASCII chart

Complete error message explanations

Variables

Only two types - numbers and strings
Variable typing by name
Unlimited variable name length
Complete control of scope

Strings

Maximum length 64K each under DOS
Unlimited string length in the
Macintosh version
Substring expressions
String to number conversions
Number to string conversions
Concatenation operator

Numbers

Up to 16 accurate digits
Automatic coprocessor support
Range from 5e-309 to 1.8e+308
Standard IEEE 8-byte format
Exponentiation operator

Modularization

Named subroutines with parameters
Multi-line, user-defined functions
Full support of recursion
Modules to control scope of data and routines
Commercial and user-defined library support
Support for assembly and C routines
Internal and external procedures

Structures

Multi-line IF...THEN...ELSEIF... ELSE
SELECT CASE structure
DO loops with WHILE and UNTIL
FOR...NEXT loops
Error handlers
PICTURE structures for graphics

Text

Complete cursor control
Formatted output to screen, files, and printer
Print zones for columnar output
Flexible input with type-checking
Input by line, item, or key

Graphics

User-defined coordinate systems
Support for multiple "windows"
Built-in 2D transformations
Color support with user-defined colors
Support for mouse and arrow keys
Animation capabilities
Plot points, lines, and text
Plot rectangles, ellipses, & regions
Filled or outlined objects
Matrix plotting capabilities
Justified text plotting
Region flooding
Transformable pictures

Sound

Sounds by frequency and duration
Music with sophisticated PLAY statement
Sharps and flats
Dotted notes and rests
8 octaves
User-definable tempo
Legato, normal, and staccato tempo modifiers
Music playable in background

Files

ASCII text data files
Random-access record files
Open format byte files

Built-In Editor

Window based
Full mouse support
Menu and/or command driven
Cut, copy, and paste
Global and local search and replace
Keyboard macros
Script file support
Pre-processor capabilities
Configurable environment
Saves programs as ASCII text files
Saves programs of any length*

Matrix Features

Limited only by available memory
Up to 255 dimensions per array
Default lower bound user definable
Fully dynamic, resizeable arrays
Arrays of strings or numbers
Built-in matrix arithmetic operations
Inverse and transpose functions
Determinants and identities
Dot and scalar products
Matrix input and output
Matrix graphics
Complete subscript range functions

Compiler

Compiles to fast, compact b-code
Allows separately compiled libraries
Parameter type-checking
Syntax-checking
Optional LET statement
Optional declared variable names
Program size limited only by available memory*
Automatic memory management
Does not require line numbers

Debugging

Breakpoints with continue
Immediate mode execution
Visual trace utility
Single-step execution capability
Cross-reference utility

Stand-alone Applications*

Easy to create; take your source code and bind it into a program
.EXE files on PC
Double-clickable files on Macintosh
Single file applications
No royalty fees

* Standard Edition features


More to come!!!